1. The architecture is stunning.
From
King's College chapel
(built 1446-1515), to the
Fitzwilliam Museum
(built 1841), to
Quayside
(opposite Magdalene College, built 2009), the architecture of Cambridge spans many different centuries and styles. The famous bits are famous for a reason; you should definitely see them for yourself. But who knows what other, less-celebrated gems you will discover as you walk the cobbled streets?
2. It's a famous centre of academia and learning.
So many incredible thinkers have gone before you in Cambridge! The university was founded in
1209
, meaning that the city itself has a long and rich academic history. Some of the world's greatest minds lived and studied here… You can visit the Eagle pub where
Watson and Crick
first toasted making the first three-dimensional model of the structure DNA. You can stroll through the grounds of Trinity College, where
Sir Isaac Newton
conducted many of his now-famous experiments. And let's not forget the libraries and bookshops, where the likes of
Sir Francis Bacon, Charles Darwin, Bertrand Russell, Ludwig Wittgenstein
and
Stephen Hawking
may have searched for material from their reading lists!
3. There's loads of lovely places to eat.
Cambridge offers a range of eateries as diverse and expansive as its architecture! Some are nothing short of institutions, such as
Tatties
' breakfasts or chelsea buns from
Fitzbillies.
You might find something you fancy in the
Market
, which has been a feature at that site since the Middle Ages. Or you might want a spontaneous snack at one of the
street food
stalls that regularly pop up around the city.
4. The city itself is small and welcoming.
Cambridge is an ideal place to wander around and explore. It is easy to navigate (just watch out for the bikes as they zoom past!), and is bustling with an excitable yet comfortable atmosphere. Especially if this is your first time away from home, in Cambridge you will find a city that you can swiftly feel has become your own.
5. Being outside is as nice as being inside.
We've talked about the architecture like this… but outside the buildings, you are never far away from a number of beautiful places to sit, eat, talk and dream. A firm favourite for enjoying the wonders of nature is the
Cambridge University Botanical Gardens,
which plays host to a vast array of different plants.
6. You can punt along the River Cam.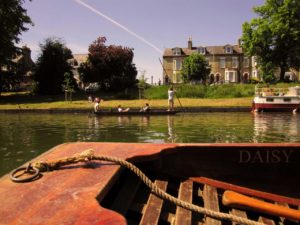 Punting
is a traditional form of water transport, where you are pushed down the river in long boats that look a bit like gondolas. It may sound a little strange, but it is perhaps
the
quintessential 'Cambridgey' activity! Punting is a beautiful way to see the
backs
of the colleges, thereby profiting from a very different, but equally enchanting, perspective of the city. You might even like to try punting yourself (i.e. standing on the back of the boat and pushing it along with a pole) – be careful though; it's harder than it looks!
7. You'll find a lot of photo opportunities.
Cambridge is ridiculously picturesque, so the well of photo inspiration will never run dry! From famous landmarks to strange-looking clocks… from friendly porters to perfect cups of coffee… from locations you've seen in films (such as
The Theory of Everything)
to cutesy shots of bicycles leaning against lampposts, you will not be short of Instagram fodder. For examples of what some of our previous Reach Cambridge students created with their cameras, check out the hashtag gallery
here
.
8. Cambridge is a city of culture.
Cambridge offers plentiful opportunity for the culture vultures among you. As Cambridge University is one of the world's leading research institutes, you won't be surprised to know that there is a wealth of museums and sites of learning, such as the weird and wonderful
Museum of Archaeology and Anthropology
, cute and quirky
Kettle's Yard
Museum, and the grand, sophisticated
Fitzwilliam Museum
. There are also many opportunities to indulge in the theatrical arts, both professional and student-made. The
ADC Theatre
, home to the university amateur dramatics club, is the oldest student playhouse in the country, and over the years has provided a springboard for burgeoning talents such as
Sir Ian McKellen, Rachel Weisz, Tom Hiddleston, Hugh Laurie, Emma Thompson
and
Stephen Fry
.
9. You're well-connected for day trips to other famous UK sites.
Yes, it still counts as a reason to come to Cambridge! Why? Because who doesn't love a day trip? Especially when you can come back to a beautiful city and snuggle down for a comfortable evening when you return from your adventure! Cambridge is wonderfully well-connected, with great links by rail, bus and car to other places of note, such as
London, Oxford
and
Brighton
. As part of our
Reach Cambridge summer programs
, we make sure our students get the chance to experience these other bastions of English heritage by organising weekend excursions. They are always a lot of fun!
10. Did we mention it's really pretty?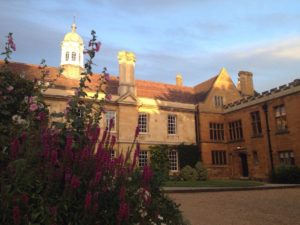 Come join us for one of our academic residential programs! You can find out more
here
.