Festive Thanks & Fundraising
Reach Cambridge is very proud of its student's fundraising efforts and community outreach work. The students are amazing at planning fundraising events, encouraging donations and, most importantly, raising awareness of the charities we support and the wonderful work they do. This summer, our students raised over £3000 for our two chosen charities, Sabre – helping build schools for children in Ghana, and the CAIRN Trust – educating children in rural Nepal.
Now we are entering the festive season, there is much joy in spending time with family and friends, celebrating and exchanging gifts. It is important we also take time to reflect on those less fortunate than ourselves in our own communities, countries and beyond. This festive season, Sabre have set themselves a big give Christmas challenge – raising £45,000 to help build a new kindergarten in Ghana. They want to raise £20,000 next week alone (5th – 9th December) through donations. This is an ambitious but very admirable goal and we wish them all the best. Please visit http://new.thebiggive.org.uk/project/sabre for more details.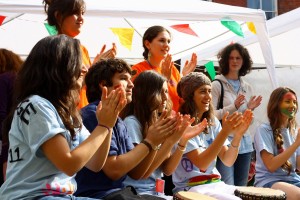 Whatever good cause you believe in, or whatever charity you support, this Christmas, why not give up your take away coffee and donate the saving? Or send Christmas emails rather then Christmas cards and proudly say you donated the money saved on postage and paper to a worthy cause instead?
We would like to thank all of our students again for their amazing efforts this summer and look forward to working with new students on our community service projects in summer 2012. Please see our website www.reachcambridge.com/courses for further information on our outreach program.