Day 16: students vs. supervisors football
Following their classes, the students headed to Downing College paddock to watch the highly anticipated supervisors vs students football match. Everyone gathered around the pitch as supervisors and students stretched and prepared for the game ahead. Rivalry and competition was in the air, as supervisors donned their orange t-shirts and both teams striped their faces with the colours of the country they were about to represent. The whole crowd was tense as Dan blew the whistle and the game began. It was instantly evident that this would be a close game, with both sides playing well.
Students and supervisors alike demonstrated skills and speed as they wove down the pitch, dribbling and tackling.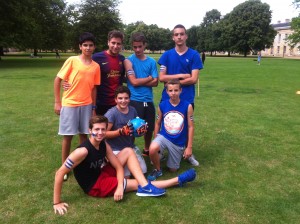 The crowds on the sidelines shouted in support for the teams; the supervisors cheering their team greatly outweighed by the cheers of the students. Incredible goals were scored and the goal keepers made saves that seemed close to impossible. The whole crowd watched as the game grew closer and closer, with the players showing increasing skill and prowess. After 40 minutes the supervisors proved triumphant, but the students certainly put up a fantastic fight. The football match was in aid of Sabre, the charity which works closely with Reach Cambridge. All those involved should be incredibly proud of themselves as they organised and orchestrated a great event.
Written by Lauren, Supervisor.