Day 10: Capture the Flag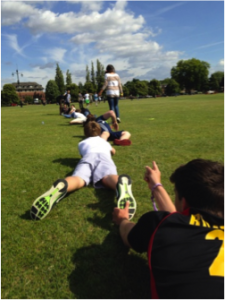 On Wednesday we made use of the glorious weather and ran a large game of Capture the Flag in a local park. This involved about 50 students and multiple supervisors. It was fantastic to see students working together to outwit the opposing team. Each team was required to decide tactics with the aim of capturing the opponent's flag without being 'tug' whilst defending their own flag. It was wonderful to hear the laughter of the students and see their competitive natures come out! We played several games until we were all too exhausted to continue! A particular highlight for me was to see the ingenious way one team attempted to escape from 'prison' and return to the 'safe zone'. Unfortunately the chain of students didn't quite reach in time!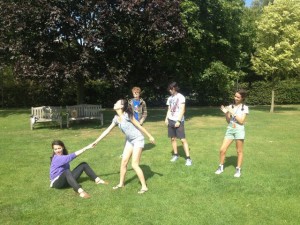 Another activity that made use of the great weather was the drama workshop. A handful of budding actors met out on Downing college paddock to take part in drama based games. They practiced improvisation techniques such as a game that involved them interviewing an unknown celebrity in order to uncover their hidden identity.
The evening lecture was a very thought-provoking talk on the power of the consumer and the influence of marketing techniques. The lecturer was speaking about his experience of working in the advertising industry, and judging by the 15 minute Q & A session at the end of the lecture, prompted a great deal of thought in the students minds.
The evening activity was a less active affair than the afternoon, but equally enjoyable. We watched the Holland – Argentina world cup match together! Although the lack of goals proved a disappointment, the excitement of watching it together on the big screen was very enjoyable!
Written by Ben Hughes, Supervisor