Day 8: Tour de France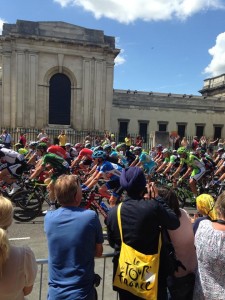 Today we were lucky enough to experience a once in a lifetime opportunity – the famous Tour de France passed through the centre of Cambridge, and all of the students were released from class for the day to watch! The centre of Cambridge had been decorated with bunting and bicycles, and lots of the shops and restaurants were open early selling refreshments to the crowds. People crowded around the route which went down the iconic Kings Parade in front of Kings Chapel, passing right in front of our own Downing, Christs and Trinity Hall sites. The sun was out and the day got off to a great start with music and a parade by investors down the route path. Then at 12.15 we saw the cyclists themselves, speeding past as we all cheered them on.
For those of you who may not know, the Tour de France has been an annual event since 1903. It is the most prestigious race in cycling, and now attracts teams from all over the world. This international appeal and its increasing popularity has meant that in recent years, parts of the race sometimes enter nearby European countries other than France; we were delighted that the race was passing through Cambridge during our July summer program. This is another major sporting event to come to the city, following the Olympic Torch passing through Cambridge on its way to the 2012 London Olympics – once again, this was during the Reach Cambridge July summer school, and our students were able to see this unique event!
Written by Alice Boughton, Supervisor