Day 3: Anglesey Abbey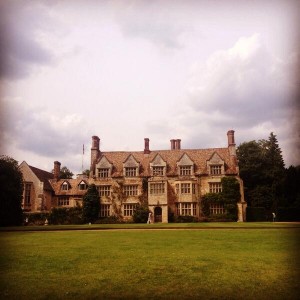 After working hard in their classes this morning, the Reach students got a well-earned break and had an idyllic visit to Anglesey Abbey for the first excursion of the summer program. Anglesey Abbey is a stately home and gardens (think Downton Abbey) just a short drive from Cambridge, and was formerly home to both a religious community, and  Baron Fairhaven, a wealthy American, before being passed on to the National Trust.
After a short coach journey, the students were able to take in the splendour of Anglesey Abbey, which is filled with all sorts of antiques and beautiful paintings. Much to the students' (and supervisors') amusement, we all had to wear carpet-protecting shoe covers, which made us resemble a crime scene investigation team! The house has been carefully conserved and reveals the rather extravagant tastes of Baron Fairhaven, who appeared to have a different bathroom for every day of the week! The house even has a bedroom that was once home to the Queen Mother, and a chair belonging to William Shakespeare.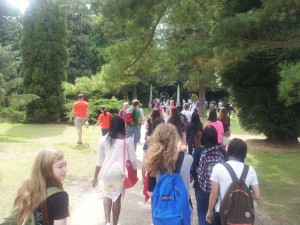 Once they has absorbed all of this history and had a quick picnic, the students explored the gardens and played frisbee, rounders and football in the heat of the afternoon sun. Quite a few of the supervisors found themselves somewhat outpaced by the athletic prowess of the Reach students – it's no wonder England don't ever get very far in the world cup!
Written by Grace Pengelly, Supervisor