Reach Hall
Our newly refurbished venue, Reach Hall, is the perfect residential learning space located in the heart of Cambridge.
This beautiful Victorian building boasts both period features and modern fittings to make your stay as comfortable as possible. It offers accommodation for up to 30 students and staff, with the majority of bedrooms being en-suite and wifi access available in every room. Experienced Reach Cambridge staff provide round-the-clock supervision.
Our on-site teaching facilities include a spacious classroom and break-out areas, as well as access to a study space.
An open-plan common room provides an ideal place for relaxation and socialising. Reach Hall also features a large kitchen and dining room, so that breakfast can be served on site each morning if requested. Our standard package includes two meals a day.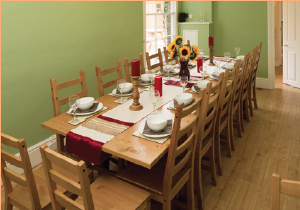 The house overlooks Cambridge's famous river, the River Cam, which meanders through the city. In terms of outdoor spaces, Reach Hall has a private courtyard and is directly opposite the expansive space of Jesus Green, which is well known for its sports facilities.
From Reach Hall it is just a short, picturesque walk to the historic city centre, with great access to Cambridge's colleges, shops, restaurants and museums.
In addition to Reach Hall, there is local accommodation on offer, allowing us to cater for larger groups.
Testimonials
The staff, the teachers and the whole experience made my stay here in the UK an unforgettable one. I wish this trip didn't end and I hope I have an opportunity to come back here again!
Gallery