Dates: Sun 28th June - Sat 11th July
Ages: 14 - 18
There is no better place to gain an introduction to university-level mathematics than at Cambridge – a home to numerous Fields Medal winners. The Reach Cambridge Mathematics course provides
students with the unique opportunity to engage with advanced concepts in mathematics in a
rigorous academic setting.
By studying topics such as polynomials, differentiation, integration, matrices, probability,
statistics, and game theory, they have a chance to enhance their theoretical understanding of
the subject matter, build their confidence in their computational skills, and apply their abilities to
real-world applications of maths in various fields. Students are also encouraged to think critically
about equity in maths and science education around the world.
This course will encourage students to explore the diverse forms that mathematics can take and to
think about both abstract theoretical approaches and practical applications. With expert support
from our experienced teaching staff, students will be able to realise their mathematical potential!
Hear from our past students:
Coming to Reach has been one of the highlights of my life. The blend of excursions, learning, and meeting new people is a really great idea brought to life.
Reach was one of the best decisions I have ever made in my life since it enhanced, and escalated, my knowledge in different paths.
I learned so much from this class and am now interested in pursuing a job related to Computer Science someday in the future.
The course was rigorous and challenging in the best possible way.
I expanded my technical knowledge, but I also gained a better understanding of what Computer Science at university actually involves… Due to the small class size, we could all get a lot of one-on-one help which allowed us to progress with programming quite quickly.
See below for an example day on each of our programs. Please note, these are only intended as a rough guide and are subject to change at any time.
A typical Summer Program
Weekday
Excursion Day
Time
Activity
Time
Activity
8-9am
Breakfast
8-9am
Breakfast
9-1pm
Subject classes
Full day excursion
1pm
Lunch-free time
Past excursions have included:

London
Brighton
Oxford
Stratford-Upon-Avon
Warwick Castle

2.30pm
Workshop/activities
6-7pm
Dinner
7pm
Evening lecture
Dinner
Own arrangements
8pm
Evening activities
8pm
Evening activities
10.30pm
Curfew
10.30pm
Curfew
All Reach Cambridge courses are open to students aged between 14-18 years old.
All courses are taught in English. In order to get the most out of the learning experience, students are advised to have a level of English conducive to understanding sophisticated academic language and to converse with other students and staff in English at all times.
We do offer English as Second Language courses if you, or we, feel that this is more appropriate. Your personal statement will help indicate to us your level of English. We will also ask for a copy of your latest school transcript to help us assess the teaching level of the courses.
General
All our students reside in one of the colleges of Cambridge University, or in our central Cambridge headquarters 'Reach Hall', and have ample opportunity to interact with present undergraduates and post-graduates. Our teachers are academics and researchers from Cambridge and other top UK universities, as well as including professionals where relevant for the course (e.g. barristers for the Law course, journalists for the Journalism & Media course). All courses take place either in college buildings, Cambridge University Department buildings, or buildings in central Cambridge.
The program fee includes the following:
Accommodation in rooms at a Cambridge University college or in our central Cambridge headquarters, 'Reach Hall'
Weekdays are half board (
). This allows students more freedom to explore Cambridge city centre and sample the many food options on offer. On weekend excursion days we provide breakfast only.
All tuition
Excursions to local areas of interest in Cambridge, and further afield; in the past we have visited London, Brighton, Oxford and Shakespeare's birthplace Stratford-upon-Avon
Extra-curricular activities in the college and around Cambridge e.g. sport, drama and arts
Lecture and Workshop series
The program fee excludes the following:
Flights
One meal (either lunch or dinner) a day (students can either visit tea-rooms, cafés, or restaurants in Cambridge.)
Souvenirs, phone calls home etc.
Insurance and Visas
Note: this is not an exhaustive list of inclusions and exclusions, but indicates the main items.
Evening Lectures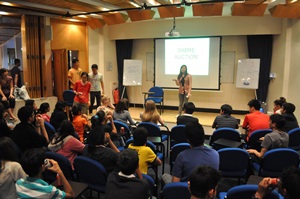 All Reach Cambridge students come together in the evenings for thought-provoking lectures from inspiring people. Students invariably say that the evening lecture series is one of the highlights of the course.
Our lecturers speak on subjects that fall under three categories: British Culture, International Social Responsibility and Inspiring Life Stories. Highlights have included lectures on Climate Change, Britain in Music, Community Outreach, Journalism and International Criminal Justice.
Always interactive and engaging, the lectures include ample time for questions – students always enjoy asking speakers tough questions after listening to their talks!
Workshops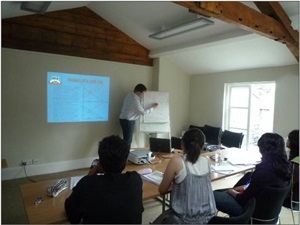 The majority of our staff are Cambridge undergraduates, graduates or post-graduates, and are the ideal port of call for students who have any queries about Cambridge University or life at university more generally. Alongside daily contact with our staff team, students can also benefit from the excellent University Life workshops and lectures that we run during our courses.
These range from the practicalities of making a good university application to coping with the issues students invariably encounter once they have commenced their studies. Students can work on their CVs (resumés) or personal statements with the help of staff, and develop their interview skills by attending a mock university or job interview with our supervisor team.
Whilst of course we cannot guarantee that Reach Cambridge courses will get you a place at university, many former Reach Cambridge students have gone on to top universities and have remarked on how helpful their experience at Reach Cambridge was for deciding which types of institution and courses are right for them.
Activities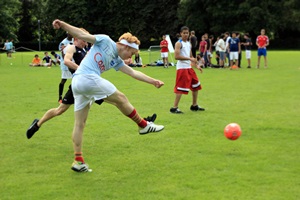 Our experienced team of supervisors puts together a varied activity timetable, so that all Reach Cambridge students have the opportunity to participate in a broad range of activities. Not only does this give students a way to relax after classes, it also provides a fantastic opportunity to meet other students and form long-lasting friendships. Our activities include a variety of different sports in which students are encouraged to participate.
For those interested in the Arts, we offer a drama group, dance workshops and art sessions run by our dedicated supervisory team. A wide variety of other activities, which may range from debating to photography and from music to talent shows, are also available for all students to enjoy. A highlight of the extra-curricular aspect of the Reach Cambridge program is the World Fair, a special event during which students share their cultures and learn about one another's countries, making the most of the program's international environment.
Students will also have plenty of time to explore Cambridge with their new friends in a safe and supervised environment.
Excursions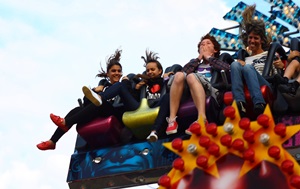 Reach Cambridge programs involve experiencing more than just Cambridge and academic life – they also provide an opportunity to visit some of the most celebrated historic and cultural sites in England.
We run excursions to some of the country's most famous places; in the past, these have included London, Oxford, Brighton, Warwick and Shakespeare's birthplace Stratford-upon-Avon. Taken to see the best that these places have to offer whilst also given supervised free time to explore, there's no better way to experience this endlessly fascinating country!
Reach Cambridge students also have plenty of time to explore the inspiring and beautiful city of Cambridge.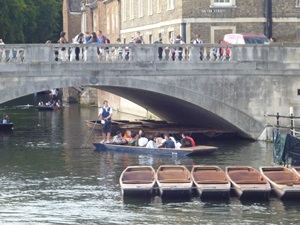 The city is home to a number of impressive art galleries and museums that cater to all interests, whether you're into Archaeology and Anthropology or the Visual Arts. Students also have the opportunity to try their hand at punting along the River Cam, a Cambridge tradition which offers views of famous Cambridge landmarks such as the Bridge of Sighs and King's College Chapel.
Theatre
Where better to enjoy the dramatic arts than in the country that produced the world's greatest playwright?
Generally, many students will get the chance to see some sort of performance during the summer. Past students have watched Shakespeare's plays in the Globe Theatre in London or the Royal Shakespeare Company in Stratford-upon-Avon, Shakespeare's birthplace. These productions have included: Much Ado About Nothing, Julius Caesar, Twelfth Night, The Merchant of Venice, Othello, Macbeth, Richard III, Anthony & Cleopatra, The Tempest and Romeo & Juliet. England is world-renowned for its theatre, and on Reach Cambridge programs you will be able to see why!
Supervision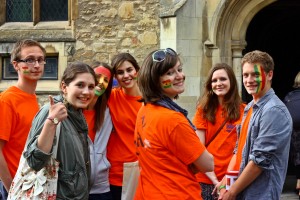 The safety of our students is our number one priority. Reach Cambridge staff are on hand 24 hours a day to supervise and assist students, however students are given a certain amount of freedom and independence, and it is up to them to spend this time wisely. Cambridge, being a university town, is a very safe environment. We issue all students with an emergency contact card that displays contact numbers for both Reach Cambridge senior staff and the emergency services. It is compulsory for students to carry this card with them at all times.
In order to ensure that they enjoy their free time safely, students are given:
geographical parameters
a curfew for their return to accommodation
instructions that they must remain with at least one other person from the program at all times when off campus
contact phone numbers for Reach Cambridge staff
Any actions that are perceived by Reach Cambridge staff to endanger a student will result in the student involved being repatriated. Please see our Terms & Conditions for further details.