The Reach Cambridge Team
Welcome to Reach
"We are very proud of our staff team and we receive wonderful testimonials and feedback each year from students, parents and teachers about how reliable, enthusiastic, motivated and friendly our staff are. Our staff are 100% dedicated to what they do and believe in inspiring and engaging young minds and helping them all to find their place in the modern world and – in the words of our latin motto – Reach for the Stars
We also have robust feedback systems in place before, during and after each program to ensure that we can continue to provide dynamic and inspiring high quality programs."
Jon McIntosh, Company Director & Founder and Jenny Evans, Managing Director
---
The Program Team
Our experienced senior staff team are onsite 24 hours a day during our programs. They oversee the whole Reach community of students and staff here at Reach. They are there primarily to look after the health and safety of everyone involved, as well as to ensure every student feels welcome, and every program is is enriching, inspiring and and unforgettable.
Our inspiring team of teachers work closely with our Director of Curriculum to provide the highest quality subject courses for all of our students. Many of our teachers are working or studying at high-level academic institutions such as Cambridge, Oxford or London universities. They usually are Fellows, Professors, researchers or post- graduates and specialists in their field. Here at Reach our teachers have significant autonomy in creating their courses so that they can utilise their expertise fully.
Supervisory Staff (non-academic)
While at Reach Cambridge, students are taken care of by our amazing team of supervisors. Our team is selected and is made up of students who are studying a range of topics at some of the UK's top Universities. These enthusiastic and responsible individuals live alongside the students on their corridors during the courses. Supervisors provide students with support and guidance during their time with us, and are their first port of call early in the morning and late at night if need be. They often say that they form just as many friendships as the students do, as they plan and deliver a wide selection of non-academic activities, and soak up their surroundings while supervising Reach students on our excursions to cultural sites beyond Cambridge.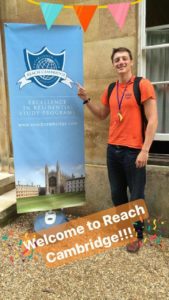 ---
The Year-Round Team
We have an experienced and dedicated staff team who meticulously plan and prepare for our programs throughout the year. Without them, Reach would simply not exist. The year-round team ensure that the organisation and programs are running smoothly at all times. Many of the year-round team also travel across the globe to visit schools and talk to past and future Reach students and their families about our programs face-to-face.
Meet some of our amazing year-round team in our informal blog.