Program 2: Leader 2017 – Day 4
Physics and Engineering students visited the Observatory – and there saw some radio frequency telescopes – and our Biotechnology students took a trip to Cambridge's Biotechnology Department. Photos of what the students got up to were on our Instagram story! The rest of the students had a great time in their lessons back at Trinity Hall and Downing. Then students were free to go and explore town and get themselves some lunch before the afternoon's activities.
At 2:30, students were faced with the choice between playing some sport on the Paddock at Downing, or participating in t-shirt painting in the Terrace Room at Trinity Hall! Supervisors Holly and Hannah led the t-shirt painting, which saw a lot of colour, paint and beanbags. Some great artistic talent was revealed (including Reach student Moene's amazing portrait of Holly!) Otherwise, some students finally played some sport and got stuck into some football, netball and frisbee.
After the varied afternoon activities, students had their first corridor dinner! This is an opportunity for students to bond with the other people living on their corridor and their supervisor. Some went out together for meals, others got takeaway or had picnics on the paddock. Despite the rain, everyone managed to stay dry and have a great time getting to know their corridor better!
In the evening, students headed to a lecture held on 'Forgotten People'. Here they learnt about different charities that help a variety of disadvantaged people in the U.K., and looked towards the ways that they could use their own skills and abilities to help forgotten and disadvantaged people in their own home. As this program is all about leadership, it was inspirational to see the students take on board new ideas and new ways of being leaders in their own lives.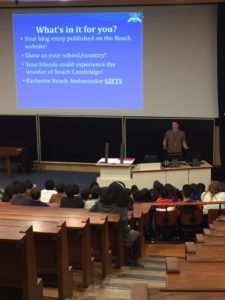 Once the lecture was over, the musically inclined students headed to our singing activity. Led by Supervisors Holly and Lily, with the help of a grand piano, they were able to learn a song from the hit Disney movie Moana. For those less willing to exercise their vocal cords, there was the opportunity to take part in some board games and WII games. Otherwise, the students had a bit of free time before bed in order to rest before the weekend. We've got two jam-packed days of excursions ahead of us, and everyone can't wait for the weekend!