Calista Adele Yapeter
Reach Cambridge 2016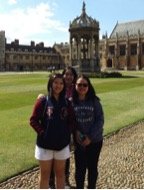 I went to Cambridge during the summer break before starting year 11. I am honoured and delighted to have been part of such an enriching experience. Reach Cambridge has acted as a stepping-stone for me to bridge the gap between life in high school and life in university. First off, I thoroughly enjoyed the tour around the town. I thought that the University of Cambridge was one huge campus, but it was more of a collection of colleges. As I became more familiar with going around town during the leisure time, I felt that if I ever were to study in Cambridge, I would feel very comfortable. The beautiful scenery and cool weather were burned into my memory, as well as the location of the multitude of shops for convenience. It has not only made my trip to Britain memorable, but also made me more interested in attending a university there.
The courses were very educational and challenging, which helped me prepare for the major I want to take in the future. I chose to take the biotech course and it certainly was very exciting. You get to conduct various labs, which you would not usually be able to do in school. Besides that, there are trips to various museums and science centres. Apart from that, I interacted with so many brilliant lecturers and they have reaffirmed my love for Biology.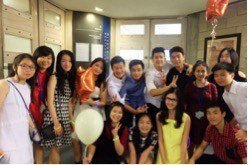 Reach Cambridge isn't only about studies. We get a balanced lifestyle with activities like sports or arts and craft. The late night lectures are also interesting topics to debate about. My favourite memories are definitely the ghost tour and the last party. Even though I don't like horror, my friends all decided to go on the ghost tour and I never regretted following them. I'll never forget the fun I had, or the other people from around the world I've made friends with. Of course, this would not have been possible without the help of the Reach staff, who were all friendly, enthusiastic and helpful. I would like to thank all of them for their hard work and for looking after us.
Reach Cambridge has been an educational learning experience that has opened my eyes beyond the scope of high school life. Living independently, although only for two weeks, has helped prepare me for the future. I hope to be able to study in an environment as wonderful as that in Cambridge. I sincerely wish that many more people will join the Reach Cambridge program and make many unforgettable memories, just as I did.
Sara Marques
Reach Cambridge 2016
Hi, my name is Sara and I a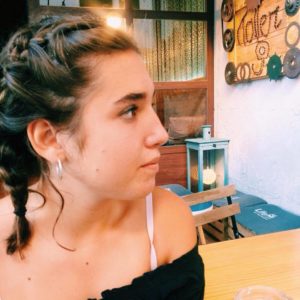 m from Spain, I took place at Reach Summers course during June and July of 2016.
For me it was an amazing, unique and fulfilling experience, 100% recommendable. Firstly it is a great opportunity to explore and visit the great city you get the change to live in for a some weeks, there as so many places to go and walk around, you can never get enough of it.
During my stay at Reach we had a suitable amount of free time, and therefore I was able to really get a taste the University experience of being more independent and organised, I also got a chance to explore and enjoy the wonderful sites of Cambridge with my friends.
The course I took was Business and Economics and I was taught by a number of very successful professors alongside people who have had an incredible and interesting working life. My course was very enlightening as it provided me with further knowledge and also helped me carry out future decisions to do with my A level studies. It helped me decide whether or not I was to carry this subject further on as a passion and I certainly did.
The good thing about this summer experience is that you get both great sides of what University life is, first of all the course, in which you experience lectures of 2 to 3 hours and get used to writing your own notes summing up the relevant information. Secondly there is the social part were you get to know loads of great people from all around the world who have similar interested to yours, in my case I made some very close friends who I still talk to a lot and visit from time to time. Also there are many activities during the afternoon you can participate in and develop an interest in such as Zumba, painting, singing, charity work, debating… and many others so there is no time for getting bored at all.
During the weekend there are also trips organised to many places near Cambridge such as London, Brighton, Warwick, Walton on the Naze… where you get a lot of time to site see and relax with your friends. Another good thing about this experience is that the staff are all students at Cambridge, and for me this was very useful as I got a chance to talk to them and ask them many questions I had about University.
From my point of view Reach was a very useful preparation for me and my future as I learnt many things, including how to set up a washing machine which was actually quite a struggle and other more relevant skills such as how to live on my own and organise my time wisely to be on time for everything. Also it helped me with my studies and helped me enrol in the world of economics, which I am currently planning to take on to University and starting my A level studies on.